We are looking for facebookers for Ostrava Placement
Isn't that you? 🙂
Read the details.
You don't have to have years of experience. We'd love to have you on the team, even if there are only a few campaigns behind you so far. What's important is that you know how Facebook/Instagram advertising behaves, know how to set it up and optimize it (ideally via Business Manager).
Can you handle the basics? Great. 🙂 We'll teach you the rest! You just have to want to work on yourself.
What you'll do:
Create and optimize campaigns on Facebook/Instagram and eventually maybe other social networks (e.g. TikTok, LinkedIn).
Communicate with the client - pulling ad material from them, sending them a monthly results report, dealing with them on promotional offers.
Test various features that will be newly available for social media ads.
Educate yourself at conferences or online.
Brag to our ponytail about what you did well - he'll trumpet it to the world on the blog.
Who you should be:
A person who has "clicked and optimized" at least a few ads and has a desire to keep getting better at it.
An enthusiast who follows the latest news not only in the world of Facebook, but marketing in general.
A reliable player who meets deadlines.
A partner for long-term fair cooperation.
A cool guy who can make fun of himself sometimes.
What we offer you:
Intensive training at the beginning is a given, but we'll give you a helping hand whenever you need it.
Time freedom - we all meet in the office Monday to Thursday between 9am and 3pm. Where and when you do the rest of the work is up to you. Plus, we have a home office on Fridays.
Fair salary growing with your experience and a benefits card.
Unlimited coffee, tea, coke, sprite or ice water.
Company parties and team building in the form of weekend lodges, go-carts, lasergame, bowling and similar attractions.
We're a bunch of crazy guys and gals who enjoy digital marketing. We do the best service in PPC advertising and we are mega good in merchandising, email and SMS marketing, social media management and web analytics.
We help with business for e.g. Mail order, Orfa, D-sport and other interesting clients.
You'll find cryptocurrency geeks, hopeless but striving soccer players, Netflix news devourers, console partiers, a biker and a dog mom among us. 🙂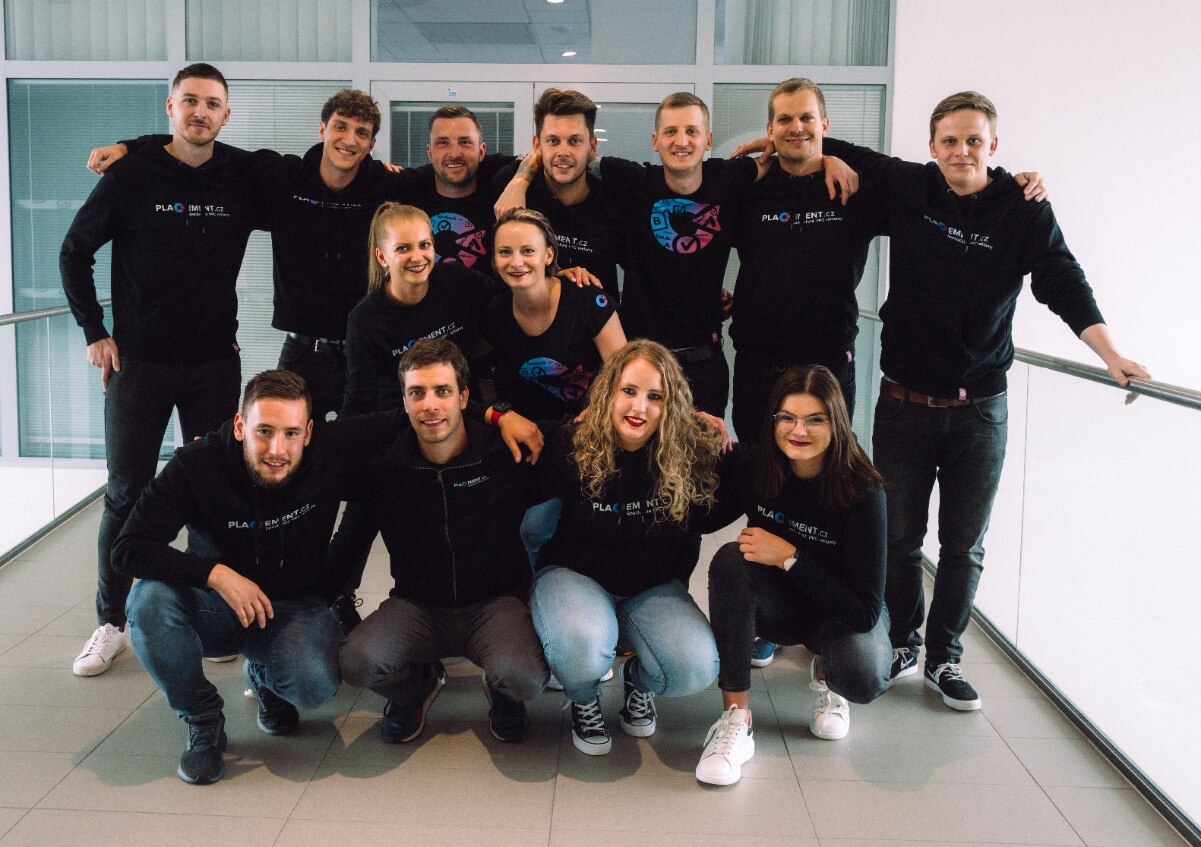 So, do you want to work for us?
Don't hesitate and send your CV to info@placement.cz!
We'll get back to you 100%.
Make an appointment with us and you will see that you will love us!
Don't be afraid to send us your question or ask for a no-obligation solution. We will get back to you.
Contact